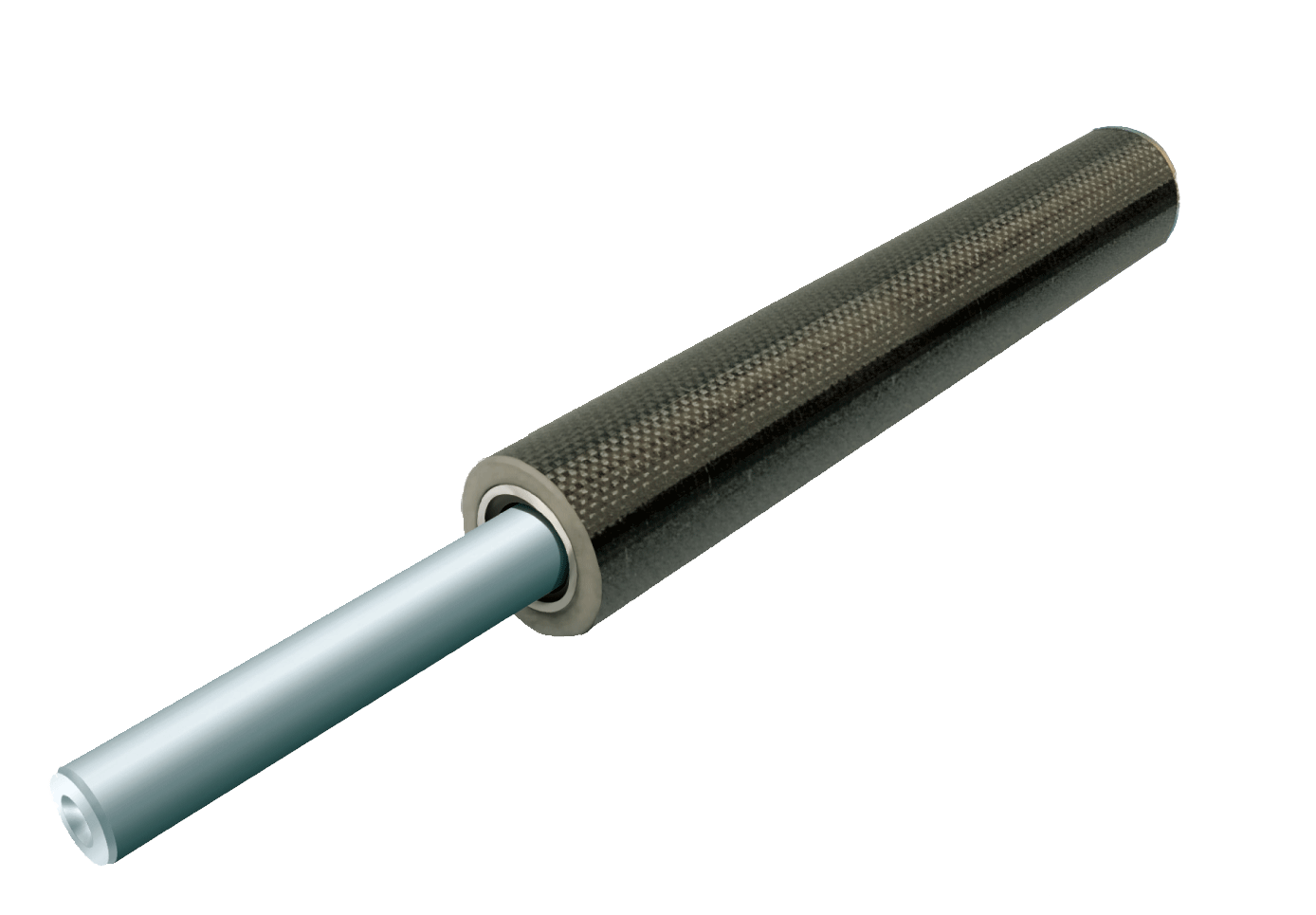 Purpose of Use
This device is a low friction cylinder that uses compressed air, reciprocating motion (low mechanical loss) actuator for the web transport line control for films, paper, metal foil, nonwoven fabrics.
Special features
1. Low mechanical loss and hysteresis.
2. Long stroke production.
3. Low maintenance.
4. Simplified structure compared with conventional products prevents failure due to rubber getting caught. The sliding part of the cylinder is lubricated by the by an air film through micro-leakage, low sliding drastically reduces wear.
5. Operated by micro-pressure.
6. Long life.
7. Operating cylinder is very light, made from CFRP (Carbon Fiber Reinforced Plastic).
8. Extremely robust to unbalanced loads.
9. High loads can be added to the cylinder lot (Linear guide).
10. The piston part is integrated with the linear guide using ball bush.
Specification 
(Linear guide air cylinder single standard)

| | |
| --- | --- |
| Cylinder bore diameter | φ21~φ90 |
| Stroke | Pitch : 50mm (Bore diameter : up to Max 10 times) |
| Operating pressure range | 0.1〜0.3MPa |
| Temperature / Humidity | 20℃〜25℃ / Under 50%RH |
| Available models | Single acting overhung type, double ball bush |
| Minimum operating pressure | 200pa (low-friction specification) for φ40 |
| Air leaking amount | 90L under / min (at 0.4Mpa) for φ40×200ST (low-friction specification) |
| Hysteresis | Average 0.6N for φ40×200ST |
| Load-bearing position | 3430N(Maximum dynamic load) for φ40×200ST |
Use
● Shock absorber
● Touch roll for the reeling machine
● Dancer device for the web transport line
Production range
●Cylinder diameter is Φ21〜Φ90(standard)
●Other sizes are also available (custom-made)
Thrust F=Ap

    ↑Intake



A : Piston pressure receiving area (mm)

D:Cylinder inside diameter (Bore diameter) (mm)
p:Working pressure       (Mpa)


Example

How to use

Vertical / Horizontal
Accumulator
(Air tank)
Even if the load (air demand of the cylinder) varies, it is important for accumulator to be set so that air supply source does not change.
One recommendation is to use a container that can bear the pressure of 0.5Mpa, another is to create cavities in a dancer frame or machine frame for use as a tank.
In this case, please be vigilant of rusting that may damage the cylinder.
(A mist separator is recommended for use.)

Piping

Regarding the air pipes on the side receiving the load from the accumulator, the thicker and shorter the better.
This is to enable the quick response to the air consumption and supply / exhaust speed due to movement of the dancer cylinder.

Air regulator

Please make sure to insert the air regulator right before the cylinder. (Precision regulator)

Dancing direction

Horizontal dancer is recommended for use as dancer device.
It eliminate the need for a balance weight, allowing for a low-inertia dancer with fast response to tension fluctuation.
In addition, mechanical loss (hysteresis) is kept to the minimum.

Compressed Air

Please use oil-free purified air and a dust filter.

Offset Load

By observing the load position, the linear guide cylinders can handle loads offset in any direction.

Guide Roll

Please use a dancer roll which rotates lightly.
Air supply
When air supply runs short even for a short time, the cylinder thrust declines.
In this case, the dancer roll cannot adjust to a change in tension, causing tension fluctuation and hunting.
管理者の許諾を得ずに、当サイト内のあらゆる画像や文章をなどの情報を無断転載することは、著作権侵害にあたる行為のため禁止します