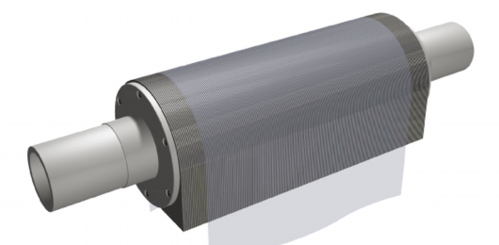 Structure
The basic structure of Air Turn Bar consists of semi-circular and semi-elliptical sections and a patented straight line structure which is very unique. 
This structure averages the amount of lift of the material along the outer peripheral surface of the Air Turn Bar. There is no contact with the Air Turn Bar.   
Materials used are SUS-304 and aluminum, with flanges fixed on both sides. Additionally, there are joints either on one or both sides for compressed air supply.
The air vent comes in two types, one with SUS-304 wire wound at an appropriate pitch (refer to illustration A) and one made from a perforated panel (refer to illustration B).

Special features
1. The base materials can be carried without contact. That prevents the occurrence of scratches, static electricity and creases.
2. The air is expelled at high pressure but at a low volume, this makes the expelled pressure uniform along the surface of the Air Turn Bar, preventing product drift.
3. The Air Turn Bar's high air exit pressure also allows it to handle products of half the width without adjustment. (However, the tension also has to be halved.)
4. Multiple products can be arranged to float concurrently on the Turn Bar without interference with each other, allowing for contactless turn for each tape item that follows a slit.
Use
Non-contact carry the variety of films / Papers / Metal foils / Fabrics

| | |
| --- | --- |
| 1. Front back inversion : | Triangle type and crossed type |
| 2. Direction change   : | Adjustable to horizontal and vertical |
| 3. Accumulator      : | Base material storage device |
| 4. Non-contact dry   : | 180° / 150° / 120°, horizontal furnace nozzle |
| 5. Air dancer       : | Zero mechanical loss |
Production range
| | |
| --- | --- |
| Width of Turn bar : | 80〜1000mm / Length 100mm~5000mm |
| Material : | Aluminum (Alumite process), SUS-304, SUS-316,Titanium |
| Surface : | Stainless wire reel, stainless punching |
| Angle : | 0〜180 degree |
| Available temperature : | 0〜400℃ |
エアーターンバー各種写真
A perforated plate is used for this turn bar. The special feature that sets it apart from the wire reel type is that the perforated vent plate is attached by fastener and can be removed, allowing for cleaning of bacteria not caught by the filter and accumulates crystal debris. Mainly it can be used in the pre-dry air turn part and as a guide on the application line.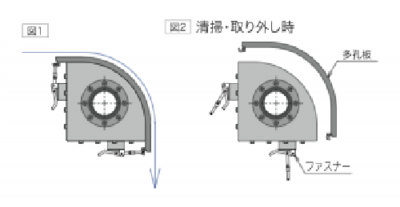 管理者の許諾を得ずに、当サイト内のあらゆる画像や文章をなどの情報を無断転載することは、著作権侵害にあたる行為のため禁止します