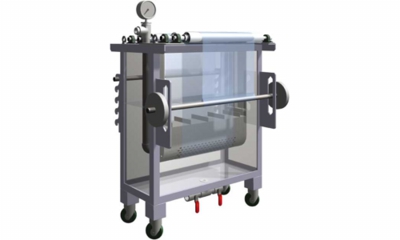 Structure
● The basic structure is the same with a punching Air Turn Bar. Pressure applied to a liquid in the tank is used to float the material.
● Liquid expelled from the tank is circulated back.
Special features
1.Enables non-contact tension measurement in the liquid (Optional)
2.Washable type is also available
3.Production at a chosen included angle (0°〜 180°)
4.Available for extreme heavy loads
5.No drift
6.Stable and balanced liquid floating
Use
● Non-contact transmission of a variety of materials in the liquid
● Liquid non-contact tension measurement
● Liquid non-contact wash transmission
Purpose of Use
● Liquid turn bar can be used for non-contact transmission in liquid for production of a variety of materials, plating and wash line.
● Usable for acid, water, alkaline.
Method of Use in Brief
● Replace a conventional guide roll with a turn bar matching the central axis and submersed in liquid supplied from a tank by a pump.
● Increase pressure with the pump, propelling the liquid to the bar through a filter.
● The liquid is expelled from turn bar apertures to float the material, after which it is circulated back.
Production range 
| | |
| --- | --- |
| Turn bar width : | 100〜1000mm(Washable type : 150mm〜) / Length 100〜5000mm |
| Materials : | SUS-304, SUS-316, Titanium |
| Surface     : | Special punching type (Washable type also available) |
| Angle      : | 0〜180° |
管理者の許諾を得ずに、当サイト内のあらゆる画像や文章をなどの情報を無断転載することは、著作権侵害にあたる行為のため禁止します