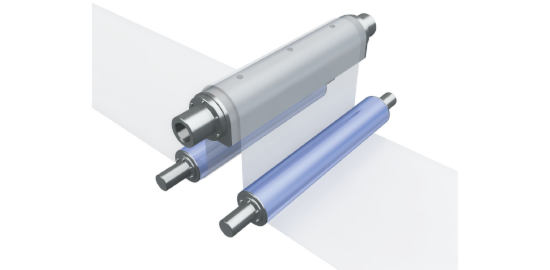 Overview
This world's first non-contact web tension meter was developed with the goal of proportioning film tension and is equipped on each turn bar to measure pressure between the floating film and surface of the bar.
Composition
Mechanical: Air turn bar / Air blower / Liquid pump / Silencer / Filter
Electrical: Pressure sensor / Pressure gauge / Computational display / Motor inverter
Main Unit
| | |
| --- | --- |
| Tension output | Digital display |
| Analog output | 4〜20mmA・1〜5V |
| Measurement precision | ±1%、full scale (pressure sensor accuracy) |
| Responsivity | Within 20ms |
| Measurement availability | 1〜1000N/m |
Production range
| | |
| --- | --- |
| Turn bar width    : | 80〜1000mm / Length 100mm~5000mm |
| Material       : | Aluminum (Alumite process), SUS-304, SUS-316,Titanium |
| Surface        : | Stainless reel, Stainless punching |
| Angle        : | 5〜180 degree |
| Temperature range : | 0〜400℃ |
Use
Non-contact tension measurement for variety of films / Paper / Metal foils / Fabrics
Non-contact floating weight measurement for variety of plate materials and products
Tension distribution measurement (Substrate width direction)
Multi-concurrent non-contact tension measurement (Post slit)
Liquid tension measurement
Liquid tension distribution measurement
Special features
1.Non-contact measurement
2.Fast response rate
3.Micro-hysteresis
4.Ultra-low tension measurement
5.Small lap included angle measurement
6.Parallel non-contact tension measurement
7.Non-contact weight measurement
8.Intrinsically explosion-proof construction
9.Hot spot measurement
Measurement principle
Image 1 is a cross section of the Air Turn Bar; Image 2 is a cross section along the width. A tension detector tube is attached to the intermediate vertex along the width of the Air Turn Bar. Inside the bar, the air is supplied from the blower in a pressure range of micro to low 0.5kPa〜10kPa.
Supplied air pressure level is selected depending on the weight or tension of the substrate. The temperature for the compressed air supply can be set to high for drying or curing.
As shown in Image 2, the pressure changes when the Air Turn Bar is used to float and put tension on the material.
「Lead tube → Pressure sensor → Controllers → Calculation →Tension conversion display → Output → Control indication → Substrate tension control → Tension detector transmission inner pressure change → Transmission 」
Thus a closed-loop control (negative feedback control) is achieved for electricity and air pressure transmission system. Approximately same system can work for a liquid turn bar.
装置構成図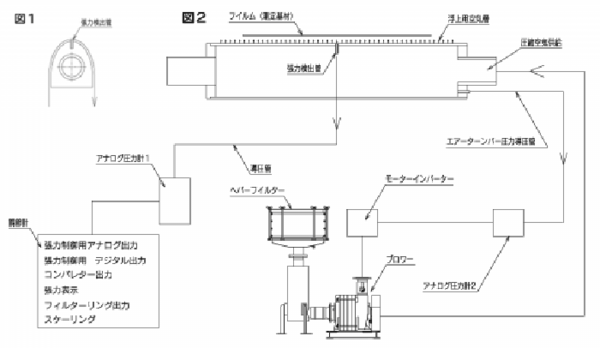 Application example 1
>> Non-contact web tension meter

Non-contact 180 degree tension measurement system

It takes two Air Turn Bars at 90 degree and one at 180 degree to measure the tension. Even conventional products employ the same method to measure tension using the strain gauge load sensor for the central guide roll axis. In Image 1, one or more pressure sensors are built inside the vertex of the 180 degree Air Turn Bar for non-contact measurement of tension.
Special characteristics include a fast response rate and no mechanical loss, which allows it to be used for the ultra-low tension precise measurement. A guide roll can also be used as an alternative to the 90 degree Air Turn Bar.



Small included angle web tension measurement

Image 2 is an example of typical use for the small included angle tension measurement in coating machines or printers.
A common rotation failure results when the film goes into the dryer after coating because the included angle is small. It was impossible to attach a tension meter since the conventional method could not deliver sufficient included angle.
In this application example, a horizontal turn bar is used as an alternative to the guide roll, allowing for a non-contact tension sensor inside the Air Turn Bar to enable measurement and film guiding with a smaller included angle. The result is that tension on the coated part can be measured and kept at a stable lower level.
Application example 2
>> Non-contact web controller

Special features
① Non-contact
② Tension minimum : 0~ Max 
③ Measurement precision : less than ±0.1%
④ Measurement speed : less than 20m/sec
⑤ Heat resistance temperature : 400℃
⑥ Intrinsically explosion-proof construction : Settling the measuring part (Air turn bar)






Auto-regulation points
① Tension profile for the fixed-width films, Tension distribution, Display, Signal output
② Drift adjustment, Film position adjustment, Adjustment actuator (up, down and rotation)
Settling the measuring part (Air turn bar)
① Film wrap angle : 180 degree
② Length : 100mm〜5000mm
③ Diameter : 80mm〜1000mm
④ Tension point : Adjustable
管理者の許諾を得ずに、当サイト内のあらゆる画像や文章をなどの情報を無断転載することは、著作権侵害にあたる行為のため禁止します